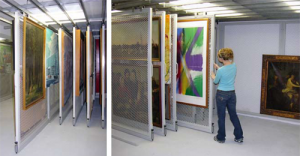 Welcome to the Archival Matters site! Here you will find information, resources and products that address your needs for managing your collection, including museum storage products, display and handling systems, and information and links to other important resources. We researched and developed our products and services to meet the strict museum requirements that you come to expect from your vendor of choice. We understand this not from the outside looking in, but from working directly with valuable collections in museums across the country. With more than twenty years of experience working with major museums, Archival Matters  products and services include our patented Multi-Hanging Panel System, the Modular Art Panel System, the AMI Cavity Box for visible storage, display and transport, the AMI Vertical Storage Bin, and additional products and services. To get started, we recommend you read the article published in Museum News, by John D. Hilberry, on visible storage and other important information for those just starting on a project.                                      
If you already have some knowledge of collections management or just have a question related to any of our products and services, look over the site and click on those that interest you. We are available to answer your many questions and welcome the challenge of providing or guiding you in the right direction.
Our line of museum visible storage and handling products include:
The Mulit-Hanging Panel /Rack System
The Modular Art Panel/Rack System
The AMI Study& Storage Cabinet System
The AMI HD Storage Vault-Cabinet System
The AMI Cavity Box
The AMI Vertical Bin
The GS Storage and Handling System: AMI-475/AMI175 Trays
The AMI  Storage Challenge: provide us with a collection problem, and we will provide a solution-the more difficult the challenge or project, the harder we will work at solving it! Even if it takes rocket science, we will find a solution.
Services include:
Storage layout and design, includes CAD files for reviewing your storage options
We also can provide you with valuable advice when designing your new or upgrading an existing storage facility.
In collaboration with our storage and transport affiliates, temporary and long-term storage and transportation of your collection, security and person to person handling and delivery of a single valuable object to entire collections.