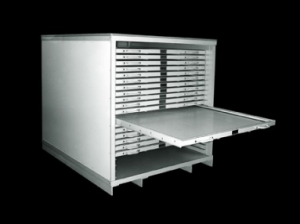 The Archival Matters Inc [AMI] Cavity Box is designed as a conservation safe alternative to standard storage crates; the Patented Cavity Box combined with the AMI Tray system (the AMI-475 and AMI-175 Trays) allows museums to safely and efficiently view, store, handle, transport and display 2D and 3D objects.
Object Storage, Handling and Display
An alternative to standard wood crates, use the AMI Cavity Box and Trays for bracing and anchoring 3D objects to an aluminum, cushioned base that also permits glazing with plexiglas. Use it upright for viewing, storing and displaying paintings or other 2D objects that you want locked and secure from visitors when museum guards/staff are not present. With minimal modifications, the Cavity Box can be used multiple times for different size 2D/3D objects. By keeping your collection visible while in storage, there is much less demand on staff to unpack a work for curatorial viewing, for visitors, or condition checking.  Contact us for more information on this unique product. Both the AMI-Trays and AMI Cavity Box are available in custom sizes.