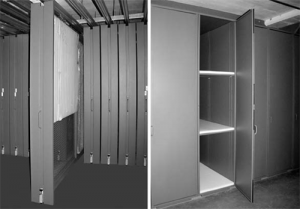 When upgrading an existing facility, there are usually more skeletons than you would want to know about, but upgrading a collections storage area to meet current standards for safety, preservation and long-term care takes the work and advice of both in-house staff and experts from specific fields ranging from engineers, architects, HVAC installers and supplier  that have worked in museums and understand the  environmental parameters needed for the collection; vendors and manufacturers of museum storage equipment that can provide you with the appropriate equipment or advice, as well as knowledgeable staff that understand the current and long-term needs of the collection.
Think of this process in stages; outline the goals required to preserve the collection and what skills and experience will be needed, both from  in-house staff and from expert service providers. Similar to hiring an architect or General Contractor to remodel or re-design your existing home, you may want to begin by seeking the advice of a project manager who will over see and represent the interest and goals of the museum.
While our current economic climate might not allow you to hire a project manager, there is plenty of free and expert advice that can be assembled via the web; or calling other regional museums in your area that have gone through the same process; as well as local conservators and collections managers that may provide free and valuable advice.
Still need more information or have a specific collection issue, well, that's where we come in! Provide us with information on your collection: size, number, quality, medium, fragility, special objects, as well as a .pdf layout of your storage areas, and we will look at your information and discuss with you a number of options to consider.  We also will provide valuable advice that maybe you had not considered in your up-grading project, or something was overlooked. It's going to be a long-term project that does not happen over night, so we will work through the challenges right along side, so your goals are met on time and within budget. A call to AMI can save you a lot of running around while all along we've been here! So call us soon and let's get the project off the drawing board. Keep in mind that though there are a limited number of architects that have worked or have constructed and designed museums from the ground up, very few will not have the experience we have that comes from handling, storing and preparing major art objects for display or travel. Gives us a call or shoot an email and we will get back to you ASAP.