Hello fellow preparators. Here you will find products we design and produce to make storage, handling and installations easier and time effective. Some of the units shown can be ordered custom to meet you supply needs, so give us a call or send an email for more information and tell us about your project.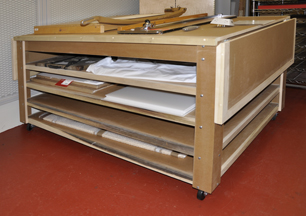 For those needing a solid, rolling work and viewing table, our AMI Roll-Away Table can be ordered in a variety of sizes, with lift-up extension located at both ends, you immediately have extra work surface for all your project needs. Shelves below the table can be used to store your supplies or archival boards up to 40 x 60″. Shelves are spaced 5″ apart.
The AMI-Roll Away Tool and Supply cabinets are designed to roll into your staging, prep or work area, so you have access to your tools and supplies near you. Cut down the time of running back and forth for tools you missed or forgot! Side handle bars are located on both ends, and we recommend two staff move a cabinet when relocating to a work area.  In addition to heavy duty rolling casters, there are additional features we can tell you about, so give us a call. Contact us for more information and tell us what size cabinet will work best for you.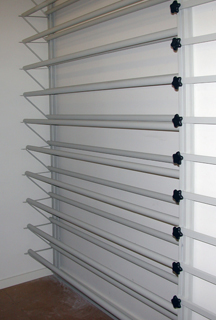 The AMI-Rolled supply storage rack combines poles and brackets to allow you to keep all your rolls of packing materials consolidated into one area of your prep room. Some museums have also used it for storage of rolled textiles. Poles and brackets can be adjusted on the rack to accommodate various size rolls.
Check back often, as we are always developing new products that others just don't provide or think that you'll need. As fellow preparators that started Archival Matters almost 20 years ago, we understand your needs more than  your usual supply and storage vendor.   Check out the historic photograph below, taken at the Guggenheim Museum (c-1980), where the storage was kept in area 2A. Staff were "forced"-really, expected, to wear blue smocks, to protect not just ourselves, but the collection.                That's me on the left.